A woman outside a rally for former President Donald Trump said she opposes President Joe Biden because her hometown has been "totally infiltrated" and Americans feel like "cast-asides in their own country!"

While NBC News hosted a Republican presidential primary debate Wednesday night that featured the five current runners-up, Trump was giving a speech to followers in Hialeah, Florida that was covered, as usual, by pro-Trump media outlet Right Side Broadcasting Network (RSBN).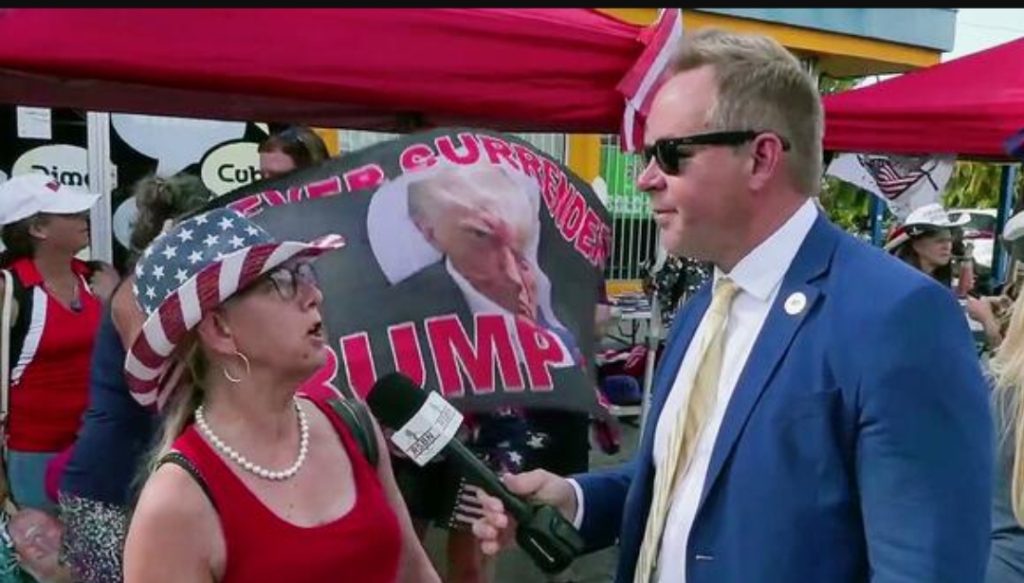 Also as usual, RSBN hosts Brian Glenn and Christina Bobb interviewed folks standing in line for hours before the rally.
One woman who didn't give her name told Glenn she supports Trump because the towns she grew up in "up north" have been "totally infiltrated" — but did not specify by whom.

She also claims Trump upholds the U.S. Constitution — which Trump literally said should be "terminated":

BRIAN GLENN: This is the best part of the rally, all the pre-show. So as far as Joe Biden is concerned, like watch one of his policies, what has happened in your life that's been a direct result of something he's done?

TRUMP FAN: Well, I've watched my towns up where I lived up north be totally infiltrated. And so I think it's the border. The border, baby! I mean, that's got to it has to stop. You know, we have to shut the border down. So I'm just, not putting American people first. And I see that just a discouragement and just the you know, people are just sick of it. They're over it.

BRIAN GLENN: I think people are sick of well, not only Joe Biden's policies, but our Congress and our Senate. We're not putting America first. I can go on a rant on that and I will a little bit later.

TRUMP FAN: You always do. You do a great job!

BRIAN GLENN: Doing great, but so what do we miss about President Trump? What are we If he was to come into office on first day, what would you want him to do?

TRUMP FAN: Making America Americans feel like this is the place where they belong and not feeling like they're, you know, cast asides in their own country! I just think restoring America to what we were promised in the Constitution, he upholds everything.
You know, I just think just restoring it's so corny, but hope and just what we're, what we're here to do as Americans and all the we the people throughout the world. Just get us away from establishment globalist type policies that are not putting Americans and we the people first. To me, that's what it's about. And he always says, you know, they're coming after me because I'm standing for you. And that's what it is. We, the people in America and all over the world