GOP Presidential candidate Chris Christie has underscored the importance of selfless leadership and critiqued former President Donald Trump's capacity to put the nation's interests above his own.


In a video he shared on social media on Wednesday evening, September 20, Christie emphasized that the presidency demands a profound commitment to the country, a quality he believes Trump lacks.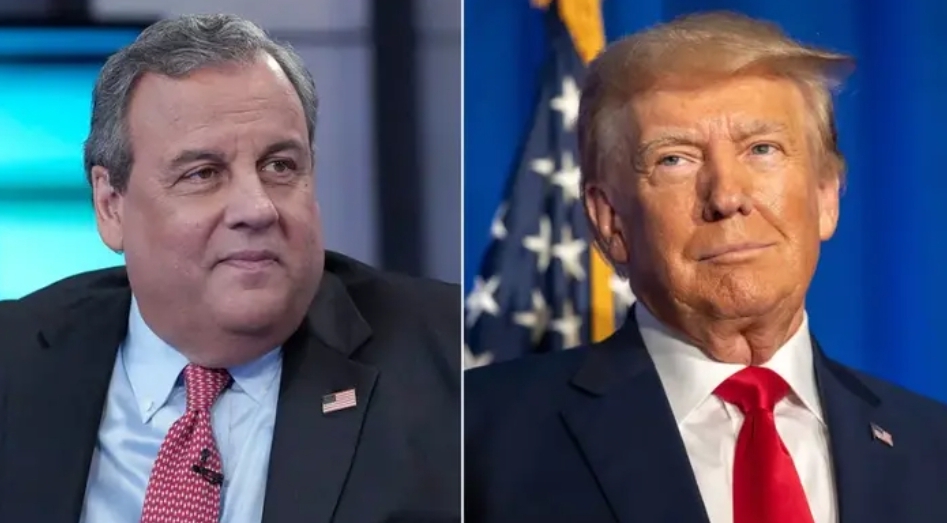 "The deal you make as president is simple. You never put yourself before the country. You sacrifice yourself for the good of the country," asserted Christie, articulating a fundamental principle of presidential leadership.

Christie did not mince words when addressing Trump's perceived shortcomings. "Donald Trump is physically incapable of doing this. We know this," he declared, alluding to what he sees as a deficit in Trump's ability to prioritize the nation's well-being over personal interests.

The former New Jersey Governor emphasized the imperative for a President who is dedicated to elevating the country and improving the lives of Americans at large.

Christie's comments reflect a desire for a leader who will focus on policies and actions that benefit the broader populace rather than one's own agenda.
Christie's remarks come as the 2024 presidential race looms on the horizon, with speculation mounting about potential contenders for the Republican nomination.

His critique of Trump's approach to leadership highlights the ongoing debates within the GOP regarding the direction and values of the party.

During his tenure as Governor of New Jersey, Christie garnered attention for his unapologetic and often confrontational style.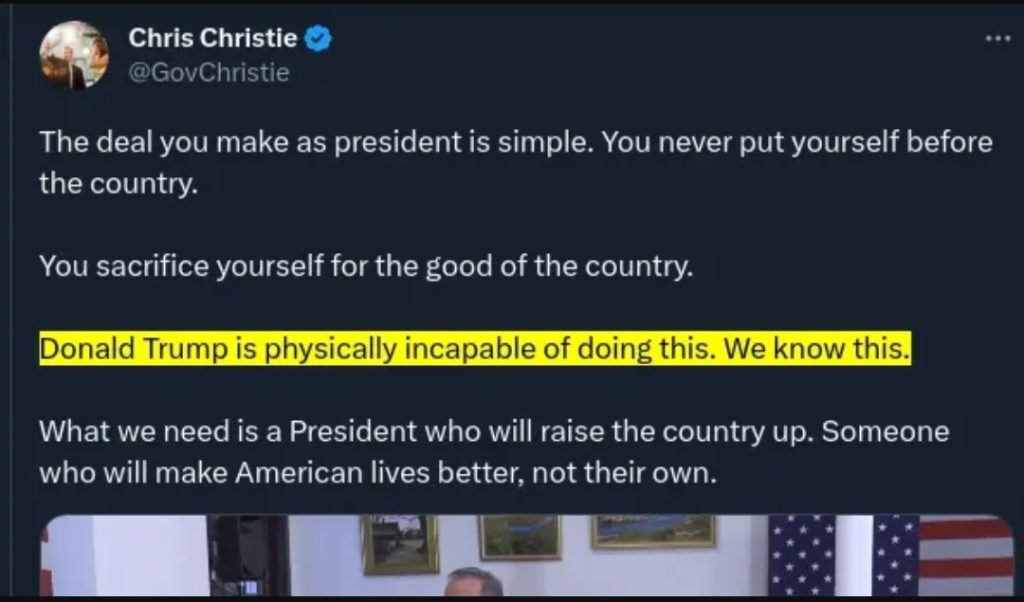 Known for his willingness to engage in bipartisan efforts and tackle contentious issues, he cultivated a reputation for prioritizing practical solutions over strict ideological adherence.

Christie's recent statement reflects a broader sentiment within certain circles of the Republican party that there is a need for a shift in leadership style.
While Trump continues to command a devoted following, there are voices within the GOP who believe that a different approach may be necessary to address the complex challenges facing the nation.

As the political landscape evolves, Christie's comments add to the ongoing conversation about the future of the Republican party and the qualities voters will seek in a presidential candidate.

His emphasis on selfless dedication to the country serves as a reminder of the weighty responsibilities that come with the highest office in the land.

Ultimately, Christie's critique of Trump's ability to prioritize the nation over personal interests encapsulates a broader conversation within the GOP about the values and qualities that should define the party's leadership in the years ahead.

As the 2024 presidential race continues to take shape, these discussions will undoubtedly shape the trajectory of American politics.