In a post on Truth Social on Sunday, September 3, former President Donald Trump made a passionate plea for a return to what he characterized as the "Trump years."

In his post, he highlighted various aspects of his tenure as President and painted a rosy picture of his administration's achievements.


One of the central claims in Trump's post is that his administration presided over the "greatest economy EVER."

It's important to note that the economy during Trump's presidency experienced significant growth before the COVID-19 pandemic hit.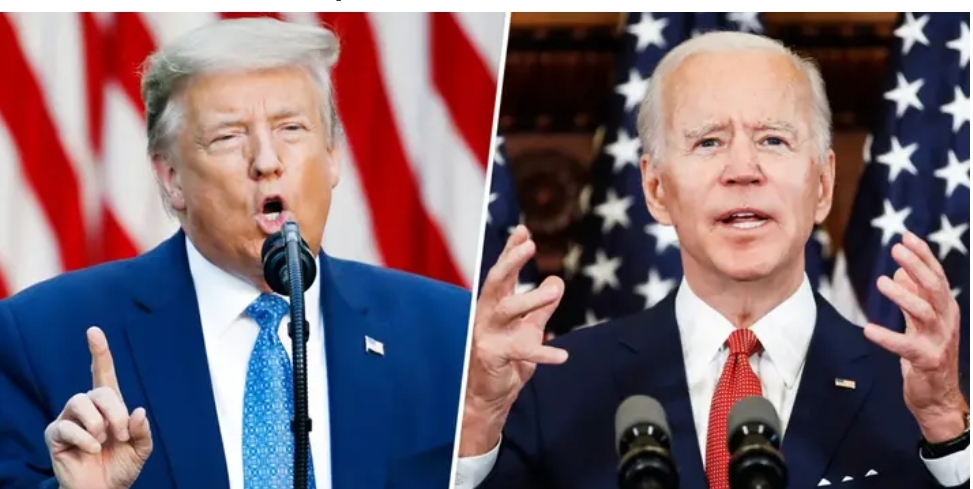 The stock market reached record highs, unemployment rates were historically low, and GDP growth was robust.

However, it's essential to consider that the economic landscape can be influenced by numerous factors, and attributing all economic success solely to one administration is a simplification.

Moreover, Trump's economic policies, such as tax cuts and deregulation, were divisive, with critics arguing that they primarily benefited the wealthy.

Trump asserted that during his presidency, the border was "the strongest ever." His administration indeed took a hardline stance on immigration, implementing policies like the "Remain in Mexico" program and attempting to build a border wall.

Supporters argue that these measures aimed to secure the border and reduce illegal immigration.

Conversely, critics contend that Trump's approach created humanitarian crises, separating families, and putting vulnerable asylum-seekers in perilous situations.

The issue of border security remains a deeply polarized and complex one, with no easy solutions.
Another claim made by Trump is that there was "no Inflation" during his presidency, and he emphasized the importance of job creation.

While it's true that the United States experienced low inflation during some of Trump's tenure, the COVID-19 pandemic and subsequent economic stimulus measures have contributed to recent inflationary pressures.

As for job creation, the Trump administration did oversee strong employment numbers before the pandemic.

However, it's essential to recognize that job growth trends can vary due to economic cycles and external events.

Trump touted his administration's achievement of making the United States "Energy Independent and soon Dominant."

The concept of energy independence has been a goal of multiple U.S. administrations. Trump's policies, such as rolling back environmental regulations and promoting domestic energy production, contributed to increased energy production.


Still, the notion of energy dominance remains a matter of debate, given the global nature of energy markets.

In his post, Trump claimed that there were "no Russia and Ukraine, no China and their threats." During his presidency, Trump faced significant scrutiny regarding his approach to international relations

While his administration did take actions against Russia, such as imposing sanctions, critics argue that he was often criticized for not taking a more confrontational stance.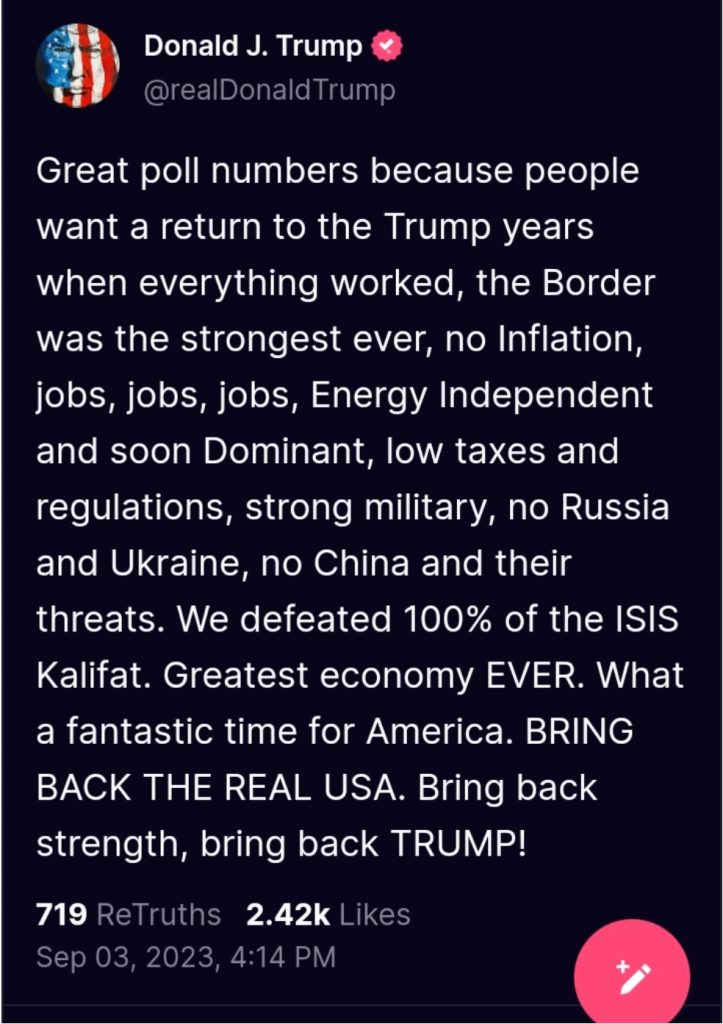 The situation in Ukraine remains a complex geopolitical issue that cannot be oversimplified.

Regarding China, the Trump administration engaged in a trade war with China and raised concerns about Chinese technology companies.

However, the broader challenge of managing U.S.-China relations remains a key foreign policy issue for the United States.

Trump asserted that his administration "defeated 100% of the ISIS Kalifat." While significant progress was made in the fight against ISIS during his presidency, completely eradicating the terrorist group is an ongoing challenge that extends beyond any single administration.

The global fight against terrorism is a complex and enduring endeavor.

Donald Trump's post on Truth Social reflects his perspective on the achievements of his presidency.

It's important to approach these claims with a critical eye, considering the broader context and complexities of the issues discussed.

The legacy of any presidential administration is a subject of ongoing debate, and public opinion on Trump's tenure remains deeply divided.

As with any political statement, it's essential to engage in informed and thoughtful analysis to gain a more comprehensive understanding of the issues at hand.