Barron Trump is the youngest son of former president Donald Trump and the only son of Melania Trump. When his father was elected the 45th president of the United States, Barron relocated from his home in New York to 1600 Pennsylvania Ave.
becoming the first school-aged boy living in the White House in more than five decades. There has been a great deal of scrutiny of the Trump family over the years, and Barron has been caught up in the media storm more often than not — despite his parents' attempts to keep him out of the public eye.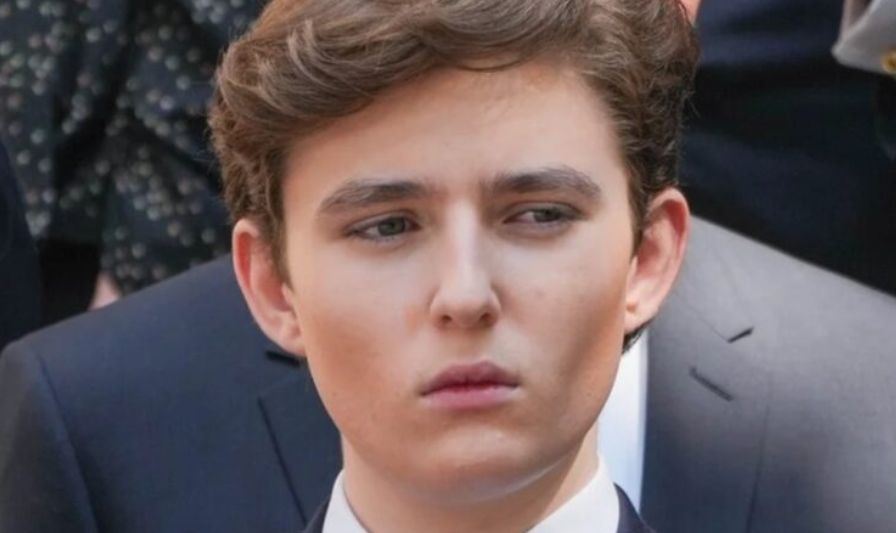 Indeed, Melania has done her very best to try to keep her son's name away from headlines and allow him to just be a kid, but that hasn't always been easy, given the family's fame and their subsequent dance with politics. "She is a doting mother to Barron and very protective of him," a source told People magazine of Melania's determination to ensure that her son is her priority. "She has always put him first. She is a good mother," the source added. As Barron has gotten older, there have been many instances of unfortunate events in his life that will undoubtedly shape his future — and we're taking a look at some of the most tragic details to date.


Melania Trump's pregnancy wasn't planned

When Melania Trump found out that she was pregnant with her first child, it came as a bit of a surprise, as she and husband Donald Trump weren't exactly trying to start a family together so soon. Donald already had four grown children from previous relationships at the time, and starting over with a newborn in diapers didn't seem to be at the top of his to-do list. In fact, when Melania told her husband that she was pregnant, he wasn't exactly ecstatic. 


"He came home and I told him he'd be a daddy. And his reaction was … at first he needed to take it in. It was a real surprise. And then he was very happy," the Slovenian-American former model told People magazine in 2006. Meanwhile, Donald recalled being surprised merely because the pregnancy happened so fast. "I expected we were going to have children, so I wasn't totally surprised. But I was surprised by the speed of it," he told the outlet.
From the jump, Melania and Donald worked out some details about how things would be through the labor and delivery process, and one thing was mutually agreed upon: Donald wasn't going to be in the delivery room to get the first glimpse of his son — or cut the umbilical cord. "I think it's easier for Melania if I'm not there," Donald explained.


Barron was born on March 20, 2006, and life would never be the same.

He has switched schools frequently

Barron Trump was thrust into the spotlight when he was extremely young, thanks to his famous parents. While protecting Barron's safety has always been important, the child's photo seemed to pop up all over the place – and no one can deny that he was a super cute baby.
As Barron got a bit older and started going to school, he was seen less and less, which seems to have been by design. When he was young, Barron attended Columbia Grammar and Preparatory School located in New York's Upper West Side of Manhattan, not too far from the family's penthouse residence at Trump Tower. But when Donald Trump decided to run for president of the United States, Barron's life got turned upside down — even if he wasn't keenly aware of what was going on.


When Donald was elected president on November 8, 2016, there were major changes ahead for the whole clan, especially Barron, who was forced to switch schools when his family moved to Washington, D.C. Although his mother made the decision to stay in New York until Barron finished the school year, he was enrolled at St. Andrew's Episcopal School in Potomac, Maryland, forced to make all new friends and to learn a whole new routine.
However, when his father lost re-election in 2021, Barron was forced to switch schools once more — this time, in Florida. When the Trumps moved to Mar-a-Lago full-time, Barron was enrolled at Oxbridge Academy in Palm Beach — class of 2024.


Barron Trump was scared to move into the White House

When Donald Trump was elected as president, Barron Trump probably didn't realize just how much things were about to change. Aside from moving out of New York City for the first time since he was born, Barron was going to be living in the White House, followed around by Secret Service, and he would become a target for every paparazzi lens within filming distance. Indeed, it was all a bit intimidating for the then-9-year-old.


"He does love New York and he loves his school. Not so much living in the White House," Donald told People magazine in November 2016. "I can help so many young people and that's when he really starts to understand that it's a good thing, not a bad thing, but it's a little scary for him because he think he is going to be taken away from his friends," he added.


When he moved into the White House, Barron had everything any kid could ever dream of wanting, with a bowling alley, a swimming pool, and a movie theater within walking distance of his bedroom.
But becoming the First Son wasn't exactly an easy transition. Nevertheless, Donald and Melania Trump did whatever they could to ensure that Barron wasn't in the public eye. "It is a longstanding tradition that the children of Presidents are afforded the opportunity to grow up outside of the political spotlight," the White House press office said in a statement after the inauguration, according to E! News.



While we may not know how much television Barron Trump was watching when he was living in the White House, we do know that he was often the butt of jokes, from late night television to internet trolls who took aim at the youngster simply because they don't like his dad. One prime example of this happened in 2017 just after Donald Trump's inauguration.
"Barron will be this country's first homeschool shooter," Katie Rich, a "Saturday Night Live" writer, tweeted at the time. According to USA Today, the tweet, which has since been deleted, caused Rich to be "suspended indefinitely." There was also a great deal of criticism surrounding Barron's clothing choices.
The youngest Trump doesn't have any responsibilities as the president's son, but the least he could do is dress the part when he steps out in public," reporter Ford Springer wrote in the Daily Caller in August 2017.


Comments like these set off a chain of responses from former first children, like Chelsea Clinton and Jenna Bush Hager, both of whom defended Barron against these unnecessary remarks. "The truth is, obviously, Barron Trump didn't ask his dad to run for president.
It wasn't his decision," Hager told People magazine. Meanwhile, Clinton took to X, the platform formerly known as Twitter, to share her feelings on the matter. "It's high time the media & everyone leave Barron Trump alone & let him have the private childhood he deserves," she wrote.


Barron Trump may have been used to having a security detail around his family during various times throughout his life, but having private security guards or a police escort from the NYPD is far different from having the Secret Service follow you wherever you go.
It was undoubtedly an adjustment for Barron when his dad was confirmed as the Republican presidential nominee, and things only got more intense from there. Since becoming the First Son, Barron hasn't been able to go anywhere without someone in a suit discreetly keeping an eye on him and his surroundings, ensuring his safety. Even years after leaving the White House, Barron still has this layer of protection, even when he's at school.


In fact, at the start of the school year at Oxbridge Academy in Palm Beach Florida, the school's head, Ralph Mauer, sent a letter to the parents letting them know that the undercover agents would be on school property. "A small contingent of (Secret Service) agents will be present during each school day.
We are working directly with the Secret Service to ensure that logistics and security work smoothly and discreetly with little impact on students, faculty, staff, or day-to-day operations," the letter read, according to First Coast News. According to the Former Presidents Protection Act of 2012, while former presidents receive Secret Service protection for life, their children are protected until the age of 16.



As if Barron Trump's life hasn't been hard enough, his parents' marriage has been making headlines for years, with all kinds of reports that the two can't stand each other and that Melania Trump has been wanting to file for divorce. And while a lot of that noise is just tabloid fodder, some of the chatter actually comes from people who have or had ties with the Trump family.
"Melania is counting every minute until he is out of office and she can divorce," said Omarosa Manigault Newman, who developed a working relationship with Donald Trump when she was on "The Apprentice" and later was brought on as a White House Official, according to the Independent. "If Melania were to try to pull the ultimate humiliation and leave while he's in office, he would find a way to punish her," Newman added.


Of course, we don't know how much news Barron is consuming on a daily basis, but as a high school student, he's not the impressionable youngster he was when his dad became president.
And he also has the influence of people around him, who might bring things to Barron's attention. Regardless, it can't be fun to hear that your parents are wildly unhappy in their marriage and that your mom wants to leave your dad. And if Barron has access to TikTok? Forget it. All of those videos of Melania swatting her husband's hand away can't feel good to any kid.

Things have also gotten really serious for Barron Trump at times, going far beyond him needing to switch schools or move out of state. In August 2023, for example, a woman named Tracy Fiorenza made a court appearance after allegedly threatening to kill Barron.
She was arrested at her home in Chicago after authorities say that she sent a letter to the headmaster at Barron's school in Florida that read, "I will state that I will shoot Donald Trump Sr. AND Barron Trump straight in the face at any opportunity I get" (per NBC Chicago).
"Fiorenza was charged with transmitting threats to kill or injure another person in interstate commerce in a criminal complaint," NBC Chicago reports. It's unclear how much Barron was aware of the threat or the subsequent arrest, but he appeared to be doing okay, despite what happened.


Regardless of what side of the political spectrum a person may fall on, it seems as though everyone can agree that there is no need to threaten a child. Some people took to social media sites such as Reddit to express exactly that. "Book, prosecute and sentence. Screw this scumbag, nobody should be threatening a child," one Redditor commented on a thread. "Disgusting. Say whatever you want about Donald. He is in the public light because he wants to be. His son? A minor, no less? He is OFF LIMITS," another Reddit user wrote.



Say what you will about Donald Trump, but no one can deny that the idea of your dad being on trial and possibly going to prison is terrifying for any kid — and Barron Trump is living out that nightmare in real time. The former president of the United States has been indicted on dozens of charges, including things to do with alleged hush money, election interference, classified documents, and more.
If convicted, Donald will more than likely face time behind bars, though the amount of time is just as uncertain as the potential convictions. When asked if he worries about going to prison, Donald responded, "I don't even think about it. I'm built a little differently I guess, because I have had people come up to me and say, 'How do you do it, sir? How do you do it?' I don't even think about it," in an interview with NBC's "Meet the Press."


And while all of this is going on, Barron is simply trying to finish up his last year of high school, get into college, and move on with a life that he will eventually live on his own terms. For the time being, however, he's in the middle of a media storm that won't be winding down anytime soon. Why? Because Donald is running for president again, hoping to be elected in 2024.