Former first lady Michelle Obama has been open about her tragic pregnancy loss and motherhood to her two daughters, Malia and Sasha Obama. As a prominent public figure, she frequently shares details about her life, usually accompanied by relevant images.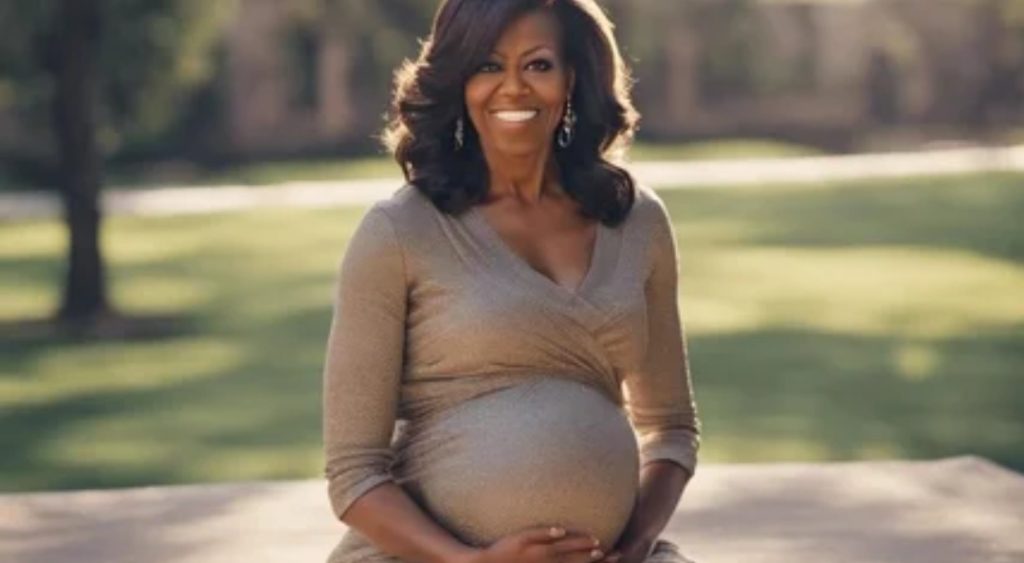 The public has been treated to photos of Michelle and Barack Obama's stunning relationship, including photos of them on dates and even at their wedding ceremony. However, there's one notable exception: there have been no publicly shared images of her pregnant with Malia or Sasha. This absence has sparked widespread speculation and sent the rumor mill into overdrive.
Addressing this curiosity, on September 20, 2023, a user on X (formerly known as Twitter) posted what were claimed to be photos of a pregnant Michelle Obama. The accompanying caption read: "Michelle Obama silences ALL conspiracy theorists and demands a universal apology after FINALLY releasing glowing pregnancy photos when she was expecting Sasha and Malia."


Yet, these images immediately raised questions for several reasons. The glaring one is that the images depicted Michelle as a pregnant woman in her fifties, contrasting the fact that she gave birth to Malia and Sasha at 34 and 37, respectively. These curious details led to further discussions and scrutiny among the public and media about these photos.
Closer examination proves that the images of Michelle Obama, claimed to be from her pregnancy, were AI-generated. One of the images shows her with six fingers, a dead giveaway for AI art. In addition, the images featured unnaturally long hands and an unusual skin texture. 


The original poster of these images on X later added a comment to their post, expressing surprise at the public's reaction. "Oh dear. People think it's true! What have I done?" user @CharlotteEmmaUK shared. This comment suggests that the images were created as a joke, not meant to be taken seriously. Despite this, the post garnered significant attention, with over 5,000 comments, a thousand retweets, and nearly 2,000 likes at the time of writing. 


Controversies surrounding the former first lady have often been fueled by misinformation and misinterpretation. However, in recent years, Michelle has opened up to the public about her story. In her memoir "Becoming," Michelle discusses her journey to motherhood, including undergoing In-vitro fertilization to conceive her two children. She also had an exclusive interview with Robin Roberts on Good Morning America, where she explained, "I realized that as I was 34 and 35. We had to do IVF."


Some responses to the AI-generated photos of Michelle Obama floated speculations about her gender identity. One of the comments stated, "Now we know for sure she is a he." Another X user wrote, "So I guess this new lie means he won't be coming clean and confessing he's Trans? Where's your courage, Mike?" These tweets stemmed from a controversial joke by the late comedian Joan Rivers, who, in 2014, responded to the stunning transformation of Michelle Obama by saying, "You know Michelle is a trans" (via CNN). Unfortunately, some people chose to take the comedian's quips as facts.


Other posts have falsely claimed that Barack Obama called Michelle "Michael." For example, a video circulated on X shows Barack Obama saying: "Michael and I also want to acknowledge…" This clip, however, is misleadingly cut short. In full context, Barack Obama was referring to Michael Mullen, the then-chairman of the Joint Chiefs of Staff, not Michelle Obama.


Another misrepresented instance on Facebook features Barack Obama saying, "I walk with my husband Michael and hold hands…" Again, this clip is misleadingly edited and omits the fact that he was reading an excerpt from a message from a woman expressing gratitude for arthritis treatments and their impact on her life. While these social media posts about Michelle Obama might seem humorous to some, given how easily they can be debunked, they are also a glaring reminder of how boldly and frequently misinformation is propagated.