A wild video originally from Reddit has emerged showing a Frontier Airlines passenger having a huge meltdown mid-flight while another passenger attempts to calm the waters by singing gospel music and starting a sermon.
The Daily Mail reported the incident occurred onboard Flight 1161 on November 16. The flight was leaving Houston for Denver but had to be diverted to Dallas, according to the paper.
The video opens with the woman crying and fighting with staff members as they desperately try to restrain her. They take her to the rear of the plane while she continues to yell.
The disturbed woman then busts free and starts climbing over several seats, hoisting her legs over and falling sideways. Passengers start angrily shouting at her.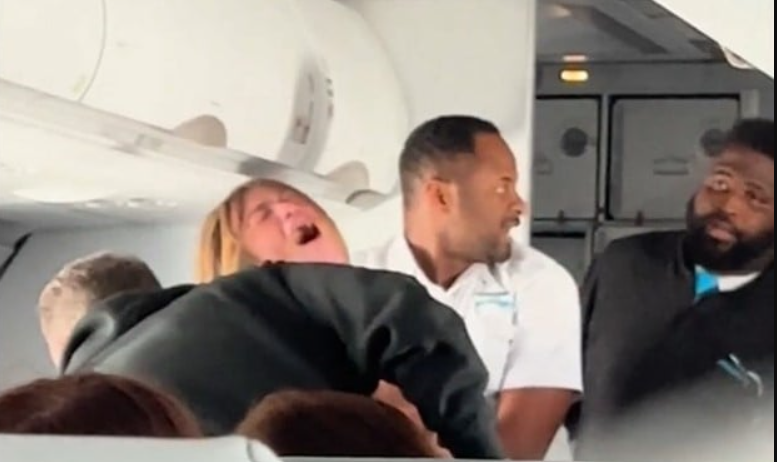 The woman having an apparent mental episode then resumes her meltdown screaming: "Stop blocking me! I've been f***ing kidnapped!" before throwing a punch at one of the airline employees.
A flight attendant's voice can then be heard over the loudspeaker begging passengers to take their seats. But it is to no avail.
The crazy woman next appears on the other side of the plane and screams at her fellow passengers to "stop laughing at her." She then braces her hands on the luggage compartments and orders the staff to get their hands off of her. The manage to subdue her temporarily.
A woman in a gray beanie starts marching up and down the aisle proclaiming this meltdown is evidence that the "real devil that wants to kill each and every one of y'all including your family members."
That's not her! She's possessed! She needs help!

And I'm sorry to sound like that, but I'll tell you right now, Jesus Christ is the way to truth in the life and there's nobody that's gonna come to the God, the Father, without Jesus Christ.
The woman in the beanie then tells everyone on the plane to embrace Jesus:
Who doesn't have a relationship with Jesus Christ? If y'all don't have a relationship with Jesus Christ, I suggest you find one.
The fellow passengers don't want to hear it and just wanted to fly to their destination.
Video footage then shows the beanie-wearing woman at the front of the plane singing gospel music while flight attendants again try to subdue the panic-stricken woman who yells: "You're fighting me! Stop fighting me!"