President Joe Biden faced another public stumble during an event at the Tioga Marine Terminal in Philadelphia.

A video of the incident quickly went viral, sparking conversations on social media and reigniting concerns over his well-being due to a history of tripping and falling.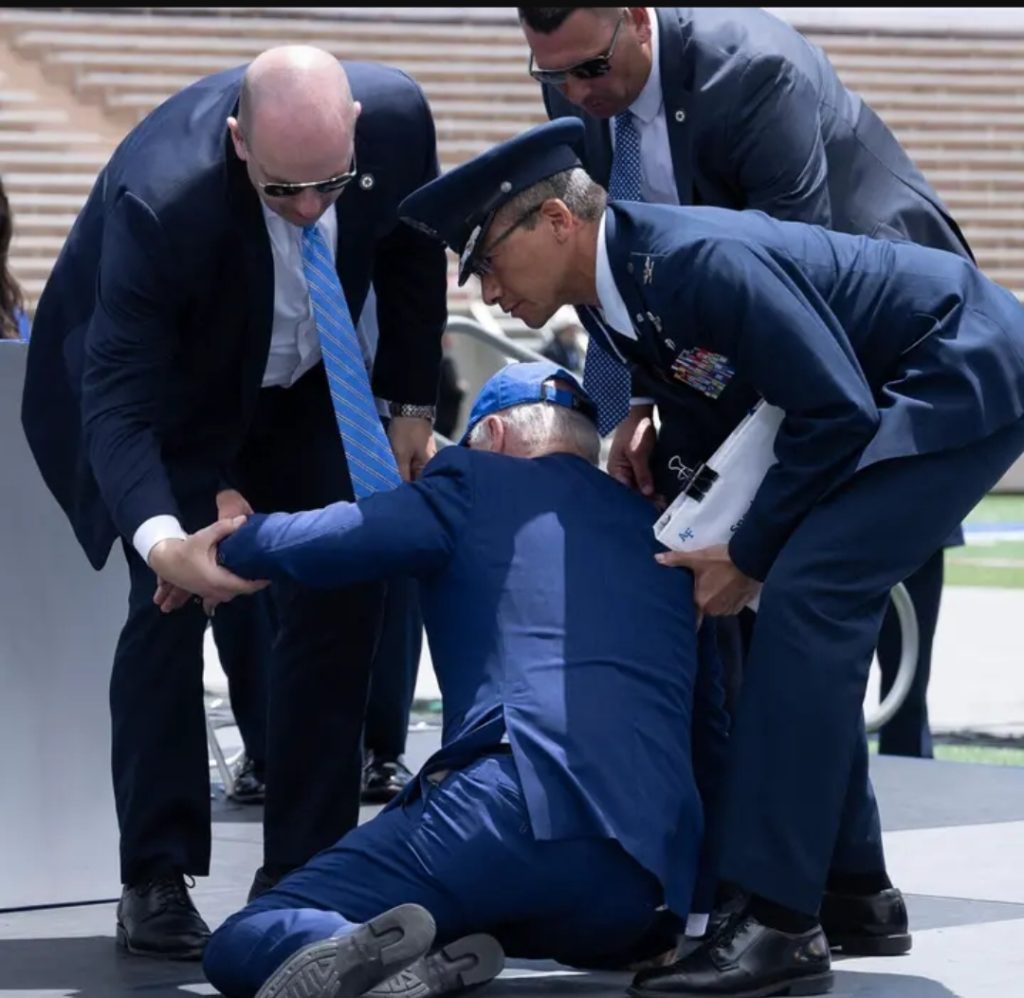 As reported by Conservative Brief on Saturday, October 14, 2023, the video captured the moment as Biden was waving to supporters and then proceeded to climb the stairs leading to a stage.

As he climbed the stairs, he appeared to stumble twice but managed to reach the podium unharmed.


During his speech, the president announced plans for the construction of a hydrogen hub as part of his clean energy initiative, as reported by Fox News.

This incident follows a similar one last month when Biden nearly fell while descending the stairs of Air Force One in Michigan.

Coincidentally, reports emerged that his campaign team had been diligently working to prevent public falls during the election season.


Biden, who is 80 years old, had just landed at Detroit Metro Airport when the near fall occurred, with him slipping around the eighth step before regaining his balance and continuing down the stairs.

The White House doctor diagnosed Biden earlier this year with "significant spinal arthritis," which has been linked to his recurring tripping incidents, sparking concerns regarding his age and fitness for the presidency.


To mitigate the risk of such incidents, Biden's team has been taking precautions, such as having him wear tennis shoes and limiting his stair climbs.

He has also received physical therapy from specialist Drew Contreras, who previously worked with former President Barack Obama.



Contreras has suggested various exercises to enhance the president's balance. Additionally, Biden began wearing sneakers in public this summer and adopted the use of shorter stairs for boarding Air Force One.

Several social media users have expressed concerns about Biden's near fall, with some describing it as "elder abuse."


Axios reported that some senior Democrats have been privately frustrated with Biden's advance team, citing such incidents and the president's difficulties in navigating his direction after speaking at a podium.

Biden's balance issues are attributed to a combination of "significant spinal arthritis" and "mild post-fracture foot arthritis" diagnosed by his physician.
Biden trips and falls on stage at Air Force Academy graduation


US President Joe Biden being helped after tripping. Photo: Brendan Smialowski, AFP
These incidents have raised concerns, especially during the election season, when a public fall could potentially harm his campaign.

A poll by the Associated Press this summer indicated that 77% of respondents believed Biden is too old to be effective for another four years, with agreement from 89% of Republicans and 69% of Democrats.


A recent Washington Post and ABC News poll also revealed that three out of five Democrats would prefer a different nominee for the party in 2024.

Although concerns persist, the White House has characterized these issues as previously disclosed and criticized media for sensationalizing them instead of highlighting the president's achievements.


Despite this, doubts about Biden's well-being and their potential impact on his political future continue to loom, particularly as the 2024 election approaches.