Oprah Winfrey Has Been with Lover for 37 Years despite Refusing to Wed — The Grandparents Enjoy Quiet Time in Farm
Oprah Winfrey had a colorful love life. She dated her high school sweetheart and was in other relationships in college and her workplace.

The talk show host later met Stedman Graham when they were both visiting a mutual sick friend, and he became the love of her life.
The couple often spends time in Winfrey's Hawaiian farmhouse and became grandparents to a baby girl.

Oprah Winfrey is a self-made woman whose ascension to success was inspiring as she came from a rough background. However, she did not let her background stop her as she has grown to become a household name globally, interviewing countless high-profile figures.


Winfrey worked hard to hold many titles, including author, producer, show host, entrepreneur, businesswoman, philanthropist, and the CEO of a multimedia production company called Harpo Productions.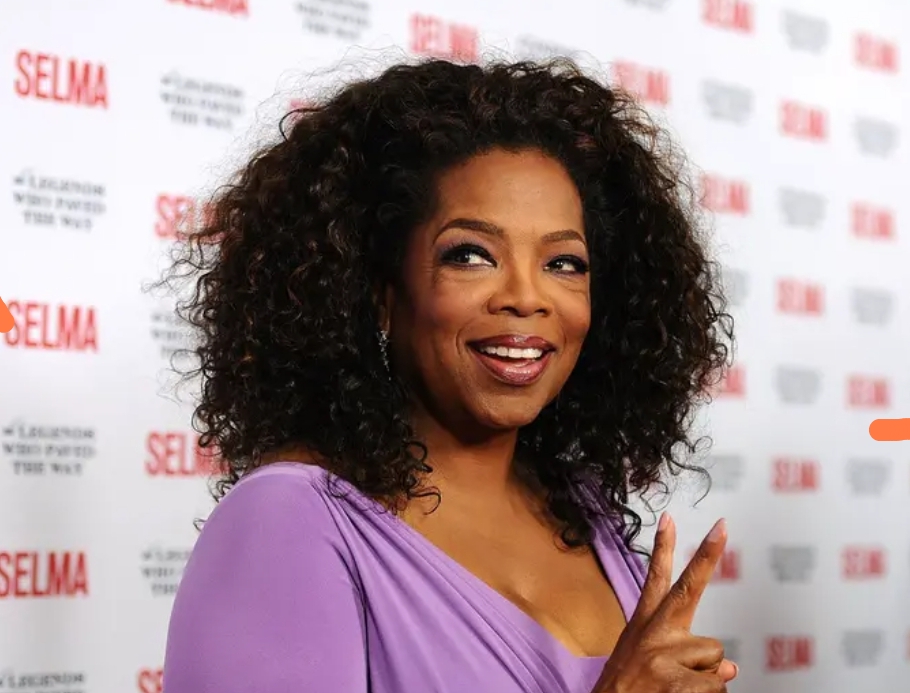 At 49, the talk show queen became one of the very few African American female billionaires worldwide. Aside from her professional life, Winfrey loves to keep her personal life private, but she has had a colorful love life offline.
The author's first love was her high school sweetheart Anthony Otey. The pair had spoken about getting married, but Winfrey broke up with him during their senior year. Regardless, Otey kept the love notes he and the author shared during their relationship.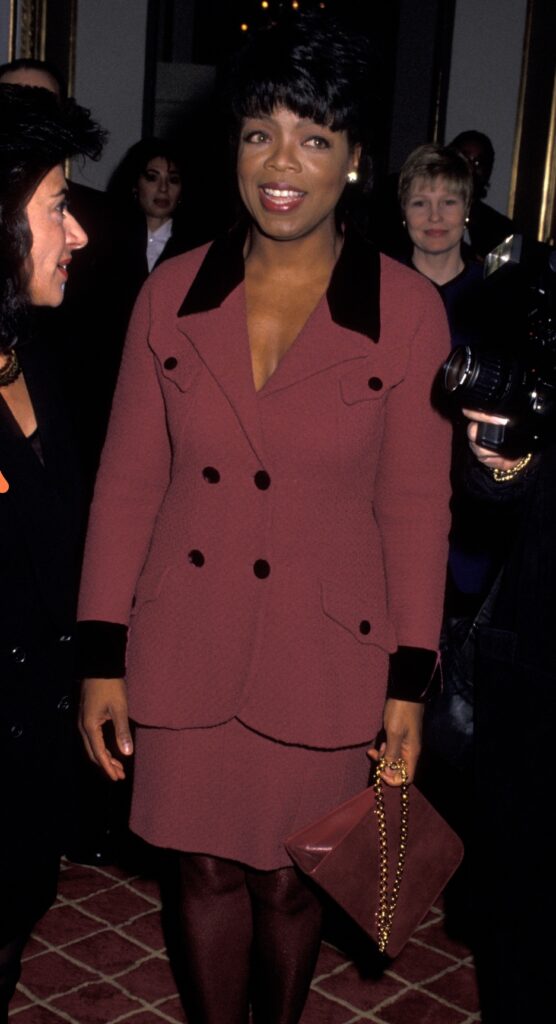 Winfrey then dated William Taylor, whom she met at Tennessee State University. The author helped Taylor get a job at WVOL radio station. However, they broke up after five years together when Taylor couldn't move to Baltimore with Winfrey.

In the 1970s, the show host briefly dated John Tesh, a pianist and producer. Tesh went on to marry actress Connie Selleca in 1992 while Winfrey got into a relationship with Llyod Kramer, a co-worker at WJZ-TV. Their relationship ended when Kramer moved to NBC in New York, but Winfrey said their time together was the most fun romance she ever had.
After her relationship with Kramer, Winfrey allegedly had an affair with a married man at WJZ-TV, who could not leave his wife for her. The author then dated Randolph Cook, who claimed he lived with her for a few months.

Cook also alleged that they did drugs when living together. In 1997, he tried to sue Winfrey for $20 million for allegedly blocking a tell-all book about their supposed relationship.
The author then dated Roger Ebert, who died in 2013. The duo co-hosted the Chicago Emmy Awards in 1986, and Winfrey said it was Ebert who advised her to take her show into syndication.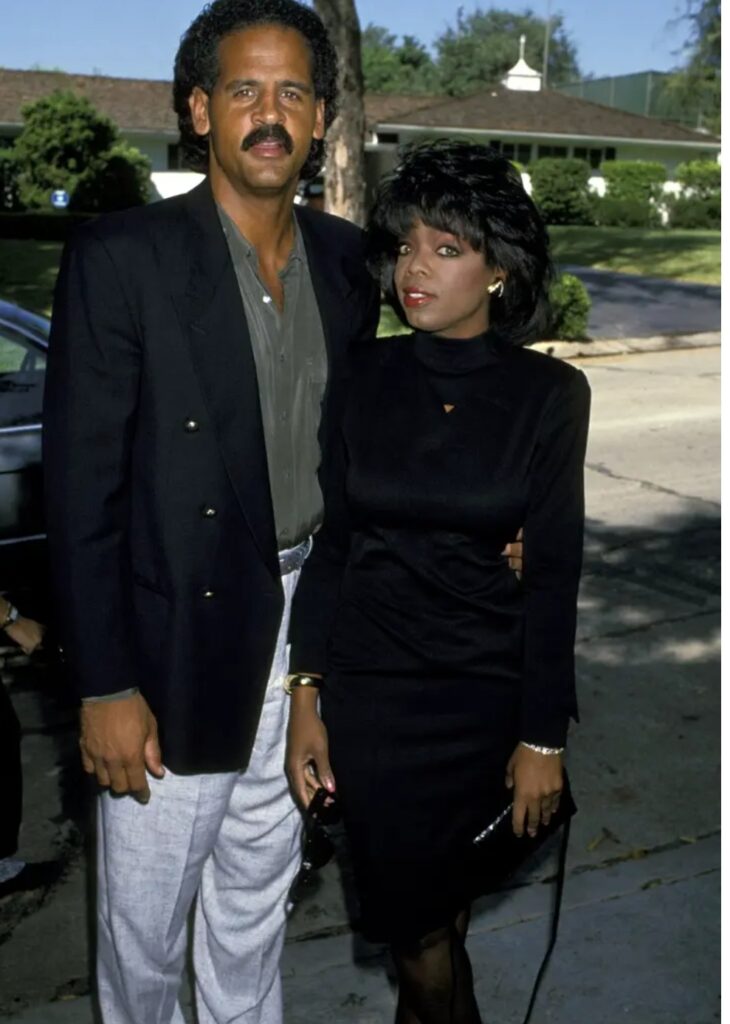 Reginald Chevalier also claimed to be among the men Winfrey was previously in a relationship with. The filmmaker said he and Winfrey met on her chat show and lived together for four months. Chevaliers said their relationship ended when the author met Stedman Graham.


Graham, who is Winfrey's current beau, met the billionaire when the two went to visit a sick mutual friend in 1986. The author knew Graham had a girlfriend when they met, so she did not think too much about the idea of dating him. However, she revealed:

"I thought he was nice enough, but I wasn't that impressed. He was polite and kind. The sort of guy who sits with an ailing friend. Tall and handsome, for sure. But, actually, too handsome, I thought, to be interested in me."
The two left together after the visit, and Winfrey asked if they could get a drink, but Graham said he didn't drink. It was only after Graham broke up with his girlfriend and inquired about Winfrey's dating status that she seriously considered them being in a relationship.


The author's producers advised Winfrey not to get into a relationship with the former athlete and sportswear model, so Winfrey proceeded with caution and had a polite friendship with Graham until he was single, and they started dating. She noted:

"Months into the relationship, I realized he was kind and supportive. Lots of people want to ride with you in the limo. But you want someone who'll help you catch the bus."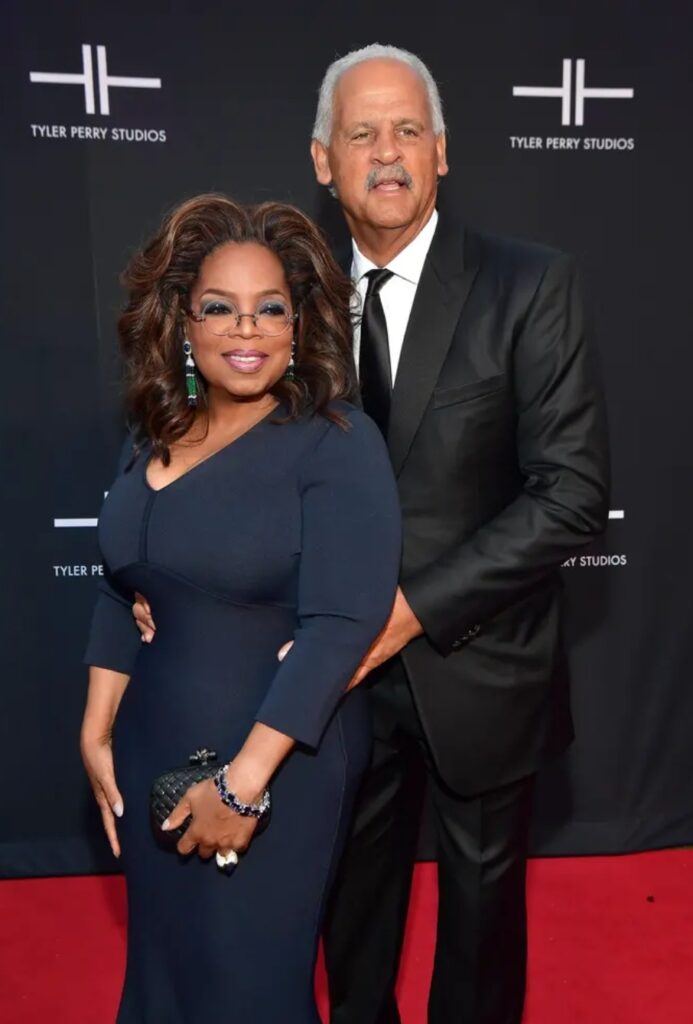 Before getting into a relationship with Winfrey, Graham had been married once to his first wife, Glenda. Their marriage did not last, but the ex-couple had one daughter, Wendy, born in 1975.
Refusing to Wed
After being in a relationship with Winfrey for over seven years, Graham felt it was the right time to pop the question. According to Winfrey, she was hanging out with her best friend Gayle King in the kitchen, waiting for Graham to come in from Chicago on the day he proposed.


When the businessman arrived, he said to Winfrey, "I want you to marry me. I think it's time." Winfrey responded, "Ah, that's really great." The author went back to the kitchen and told King, "You are not going to believe this, Stedman just proposed!"

Aside from telling closing friends, Winfrey and Graham kept their engagement private for four weeks.
However, Winfrey revealed the secret on air when she appeared as a guest on King's show, "Eyewitness News at Five" on Hartford station WFSB. King asked her if they could talk about husbands and marriages, and the author replied, "Well, you were there the weekend that Stedman proposed."

Immediately after Winfrey made this announcement, talks of the engagement spread all over national news that she did not even have the chance to inform her father of the new milestone.

After the announcement, the couple, who set 1993 as their wedding but without a specific date, was bombarded with questions about when they would hold their wedding. However, they both learned to deflect the question, and at one point, Graham answered, "We will announce happily when we're getting married when we decide, and not before."


Even after the proposal, Winfrey never wore an engagement ring. During one of her shows, she told an a member of her audeince that she was not interested in it. "If you've all noticed or watched over the years. I don't wear rings. I've only ever wanted one ring, a wedding ring," she revealed.

Apart from this beautiful house, Winfrey also loves and cares deeply for her stepdaughter Wendy.
Despite her excitement about the proposal, Winfrey also had doubts. The philanthropist said the engagement made her realize she didn't want to get married. She added that both she and Graham knew that her work was a priority:

"I didn't actually want a marriage. I wanted to be asked. I wanted to know he felt I was worthy of being his missus, but I didn't want the sacrifices, the compromises, the day-in-day-out commitment required to make a marriage work."

Winfrey refused to marry, but she and Graham agreed to stay together without tying the knot. They also concluded that their relationship would not survive if they got married.
Graham and Winfrey's relationship has worked for nearly 40 years because they have both built an identity beyond each other. They also share a mutual admiration for each other's work. The philanthropist divulged this secret:


"Graham's identity goes beyond being Oprah's man. He teaches Identity Leadership around the world and has written multiple books on the subject. We also share all the values that matter, integrity being number one. And we relish seeing the other fulfill and manifest their destiny and purpose."

The former athlete's successful career also involves hosting his "Good Life Project" podcast, which is described as a forum for "helping people discover their identities, live their lives, and lead from a place of alignment as a way to find success."
When Graham and Winfrey started dating, he was in the author's shadow with people referring to him as "Oprah's boyfriend." However, he said he worked hard to escape Winfrey's shadow and became his own man with his own ideas and dreams:

"I'm with a very special person who is just so unbelievable, but that has nothing to do with my life. That's her life. I just support her in her life. And she supports me in my life."

Graham said that she and Winfrey work best because they think together, work hard, and have their own passions, visions, and plans. He added that their relationship is not all about the public and TV shows but about working on themselves every day to be a better version of themselves.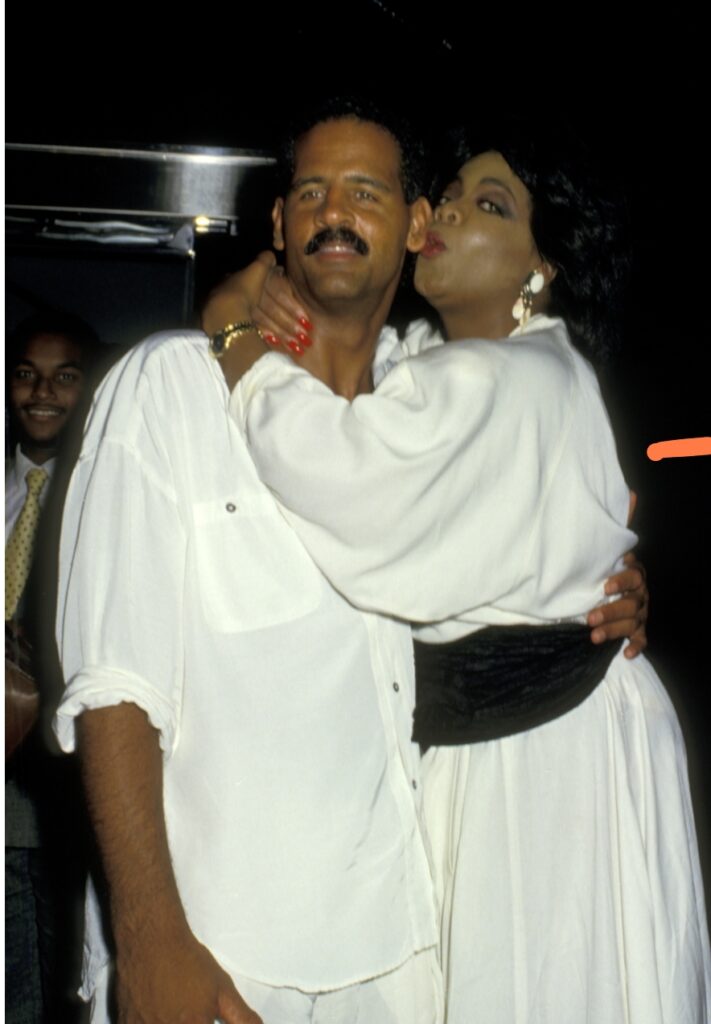 Winfrey also said she loved Graham because he was steady as a mountain, even-tempered, accountable, trustworthy, and patient, adding that her partner didn't curse and was very positive:

"Anyone who's ever met him is always amazed by what a genuine gentleman he is. Never have I heard him gossip or say a negative thing about anyone. I have done so myself plenty of times. He wants the best for me and everyone he knows."
Aside from gushing about her partner, the philanthropist revealed that she thought of becoming a mother when they got engaged. She admitted that she bought an additional apartment in preparation. "Well if we get married, I'm going to need room for children," she thought.

However, this dream did not come true as Winfrey saw the depth of responsibility and sacrifice needed for one to become a mother. She reflected on her lifestyle, which involved working 17 hours on some days, and found that she was just happy to go home to her two dogs:

"I have Stedman, who's letting me be who I need to be in the world. He's never demanding anything from me like, where's my breakfast? Where's my dinner?' Never any of that, which I believed would have changed had we married."


Quiet Life on a Farm

Winfrey and Graham, now together for 37 years, spend a lot of time together including in Winfrey's Hawaiian farmhouse. Winfrey acquired the property a few years ago after her personal trainer turned property manager, Bob Greene, recommended it to her.


The author loved the place and bought it, but she did not build condos, unlike what a developer might have done. Winfrey embarked on a journey to convert the little gray ranch she purchased into a 21st-century farmhouse.

The refurbished home now has a wide veranda where people can sit and soak up the Hawaiian views. The whole house has French doors, and the rooms are filled with extraordinary antiques that match the American heritage.
The living room has a centerpiece, a weather vane shaped like a galloping horse. A reproduction tea canister that was transformed into a lamp graces this room. The sofas in the living room are upholstered in a Boussac chenille, and the curtains were embroidered in India.

Winfrey's bedroom is a sight to behold. It has a door that steps directly onto the terrace. It also has a high ceiling that creates an open and airy space. The room boasts of a flower motif, which is stenciled between beams and keeps the fork art alive in the bedroom.

The bedroom also has a custom chair, sofa, and ottoman that makes it possible for it to be transformed into a living room. Winfrey can also pull the custom chair and catch the ocean breeze just by drawing back the sheer panels, which are made from Pollack Belgian linen.


Art that speaks of the rural fork environment is also placed strategically in the house. The living room has "Waterboy," a painting by American artist Thomas Hart Benton.

On her 18th-century English dresser are a cluster of multicolored French Jaspé pottery pitchers and two brass candlesticks housed in 19th-century glass hurricanes
Winfrey's Hawaiian home is real, personal, and enough to host two or three of her friends. She is delighted by the home she has created across the Pacific and far from her roots:

"I love, love, love my house. It's a gem, so sweet and exquisite. Such a real, normal house. It feels like a nice blanket. A lovely and soft cashmere one."
Apart from this beautiful vacation home, Winfrey also loves and cares deeply for her stepdaughter, Wendy. She said she fell in love with her the first day they met and thinks of Wendy as her own daughter.

Due to this deep love, it was a delight for Winfrey and Graham when Wendy became a mother and made them grandparents. Wendy, who gave birth to her daughter Candace in May 2015, is married to engineer Bradley Kerwin Greene.
Winfrey and Graham have remained in love over the years, constantly supporting one another and gracing the red carpet looking happy and smitten by each other