Because Emily and her partner could not have children, they decided to adopt, and one girl immediately stood out to the pair as she had a very similar birthmark to Emily's on her hand. It felt like a sign that they could simply not ignore, but maybe they should have ignored it.
When Emily eventually got around to doing a DNA test, she made a shocking discovery. When the doctor finally came out of his office, Emily could see it on his facial expression immediately. This was bad news. But what did Sophie's DNA results reveal? How did she and Emily have the same birthmark, and why did Emily even want to do a DNA test in the first place?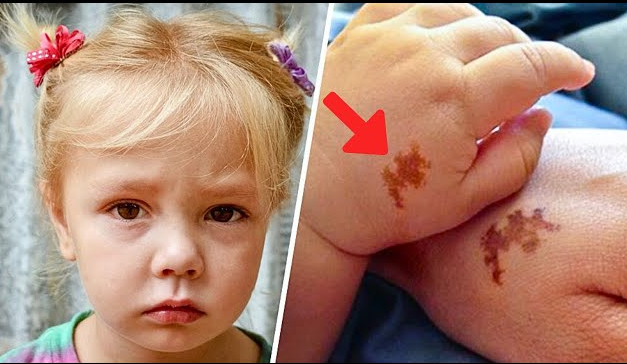 From the moment that Emily and David realized they could not conceive children together, they started to discuss all the other options. Neither of them wanted to remain childless forever. Adoption was one of the first options brought to the table, but Emily expressed a lot of doubt about this. She did not like the idea of adopting for one specific reason; she was afraid that it would feel like she was just a glorified babysitter.
But seeing as they wanted to give all the options an honest chance, David managed to convince Emily to at least join him on his visit to an orphanage. Most of the children at the orphanage were already at least 3 years old; they were already fully formed children, which only enhanced Emily's negativity toward this option.
Then something drastically changed. Emily locked eyes with a sadly looking little girl, and she immediately had a different feeling with her than with the other children. She could not explain it at first, but there was something that was drawing her toward this tiny sweetheart. The lady from the orphanage assisting the couple told them a little bit about Sophie. The girl had been dropped off anonymously at the orphanage when she was just one year old. She had been here for 5 years, and nobody had shown any interest in adopting her.
She was just trying to figure out what was drawing her to this girl. Why did she feel this connection to her all of a sudden? She almost forcefully grabbed Sophie's hand, scaring both the little girl and the woman who was assisting them. Right on Sophie's hand was a strange-looking birthmark that Emily recognized immediately. Emily had the exact same birthmark on her hand. She was holding their hands next to each other, and the resemblance was uncanny. It even seemed to be in the same spot. Emily could not believe what she was seeing. This could not be a coincidence. She looked at David, and it seemed like he felt the same way. They had to adopt Sophie.
The orphanage agreed to set the procedure in motion, and Emily and David were excited to bring the girl home. Luckily, Emily and David managed to adopt Sophie quite easily. She was at home with them within 2 weeks' time, and her new family hosted a big welcome home party. Both sides of the family were present, and Sophie seemed to enjoy all the attention she was getting. The rest of the family was beyond happy as well. For the parents of both Emily and David, it was the first time they had a grandchild. It had been their biggest wish to become grandparents for quite some time already.
David's sister had only recently started recovering from some hard times. She had been dealing with substance abuse and addiction for quite a while, and she was even exiled by her family until she got completely clean. Emily thought it was still too early to completely trust her, but David wholeheartedly disagreed with her. He thought that they should give his sister a chance, and Emily even felt like he was really pushing for it. But luckily, Emily was able to spend by far the most time with Sophie. While David worked a well-paying full-time job, she only worked 20 hours a week and spent the rest of the time taking care of things at home, being a mother and a housewife.
The more time passed after they adopted Sophie, the more Emily felt like she was not really improving her connection with the girl. She had felt that instant connection when she first met her, but that never evolved to more. Sophie seemed to be really shy toward her, which wasn't something she could say about David. Something else that stood out to Emily was that Sophie had formed a close relationship with David's family pretty quickly, but not with Emily's side of the family. It was obvious that Sophie enjoyed spending time more with David's parents and sister. Emily couldn't stop thinking about it.
Emily just could not shake the feeling that David was not telling her something. What if Sophie was David's biological child? Was it even possible? He wouldn't have done this to her, right? And if he had had a child from a previous relationship, he would definitely have told her, right?
Emily tried talking about it with David, but he rejected all her attempts to start a conversation. This made Emily doubt him even more. Emily had decided to do a DNA test to determine whether David was Sophie's dad. She had to be very careful and make sure she did not get caught. She quickly collected some saliva from his cheek and followed the rest of the instructions before putting the DNA sample away safely. Then she went to Sophie's room. Luckily, she was also sound asleep, and Emily could take the sample swiftly without Sophie noticing anything. She was relieved that things had gone as planned and that she had been able to take both DNA samples without waking David or Sophie.
The next day, Emily went to the hospital to drop off the samples. The doctor told her he would have the results within about a week. One day, Emily's phone rang. It was the hospital calling. Her heart was pounding in her chest; that must be the doctor calling her with news about the DNA test.
"Hello, Emily, this is Dr. Matthews' secretary." The secretary had called to ask Emily to come by the hospital. The doctor wanted to discuss the test results with her in person, and the secretary managed to squeeze her in for an appointment the same day. Emily took a deep breath and prepared herself for the worst. She opened the folder and looked at the paper inside. She couldn't believe her eyes; this must be a mistake. She looked at the doctor with questioning eyes, and he just nodded. How was this even possible? She felt angry, sad, and deeply betrayed all at the same time. How could he do this to her? How could they do this?
She thanked the doctor, who was thankfully very understanding of her reaction, and grabbed the folder on her way out. She needed the evidence for her confrontation with David, just in case he wanted to brush her off again.
When Emily arrived home, David was sitting at the kitchen table. David looked at her; he saw that she had a face like thunder. "Whoa, what's going on, Em?" he asked her. She was furious. She decided not to show him the results yet; she would wait for the right moment.
"Tell me the truth about Sophie," David just sighed and told her they had already talked about this. He insisted that she and Emily just needed to spend more time together. "Not this again," Emily thought. He had already turned away from her when Emily said, "Stop lying to me. I know what you did."
David froze, "What are you talking about?" he asked without even looking at her. Emily took the folder from her bag to show
it to him. His face turned pale, and he stammered, "What… what is that?" She opened it and showed him the results. It was obvious; the DNA was a match. But David wasn't the father.
After that, they talked for hours, and David told her the entire story from beginning to end. Even though she was extremely angry at him, she believed him. He begged her not to leave him, but she wouldn't make any promises.
David confessed that the birthmark on Sophie's hand was fake; he had known that something like this might convince Emily, and so he had preemptively put it on the little girl. That day before they went to the orphanage, they had lied to her.
Emily wanted to confront David's parents and sister about the information that she now had. She couldn't believe that they would lie to her and her family like that. She had already suspected that they knew something more than they were telling her, but they were involved a lot deeper than she could have ever imagined.
As it turns out, Sophie was indeed related to David. He was her uncle. Sophie was actually his sister's daughter; she had given her up while she was struggling with addiction and had only recently told her family about it. Their parents were determined to have their first granddaughter in their life, and they had thought of the plan to let Emily and David adopt her. David wasn't a fan of the idea, but he couldn't say no to his parents, and his sister was so very thankful that she got to see her daughter again.
He didn't regret helping them, but if it were up to him, he would have been upfront with Emily about it from the beginning. Now it was probably too late for them. Once the truth came to light, Sophie returned to live with her real mother. Emily and David started seeing a marriage counselor in hopes of saving their relationship, and things are looking better for them already. However, they have decided that they do not want any children of their own anymore. They will live happily ever after just the two of them.