Cuban Link shared a funny video of her boyfriend, recording artist 50 Cent, commenting on her Instagram page.
The model — whose legal name is Jamira Haines — shared a picture of herself out and about, showing off her toned legs in a pair of camouflage shorts and white ankle-strap high heels.
Haines referenced lyrics from the new single "Red Ruby Da Sleeze" by Nicki Minaj in the Instagram post in her caption, "She my lil vibe, she my lil ah ah ah."
The 47-year-old rapper responded to his girlfriend's post by writing, "What is you doing out side the house? i'm telling lucy."
Haines and the recording artist — whose legal name is Curtis James Jackson III — attended the Houston Rockets versus Boston Celtics game on March 13.
The 27-year-old entrepreneur shared a video from inside a luxury suite at Houston's Toyota Sports Performance Center. The video shows Haines zoom in on Jackson as he commented on her post in the moment.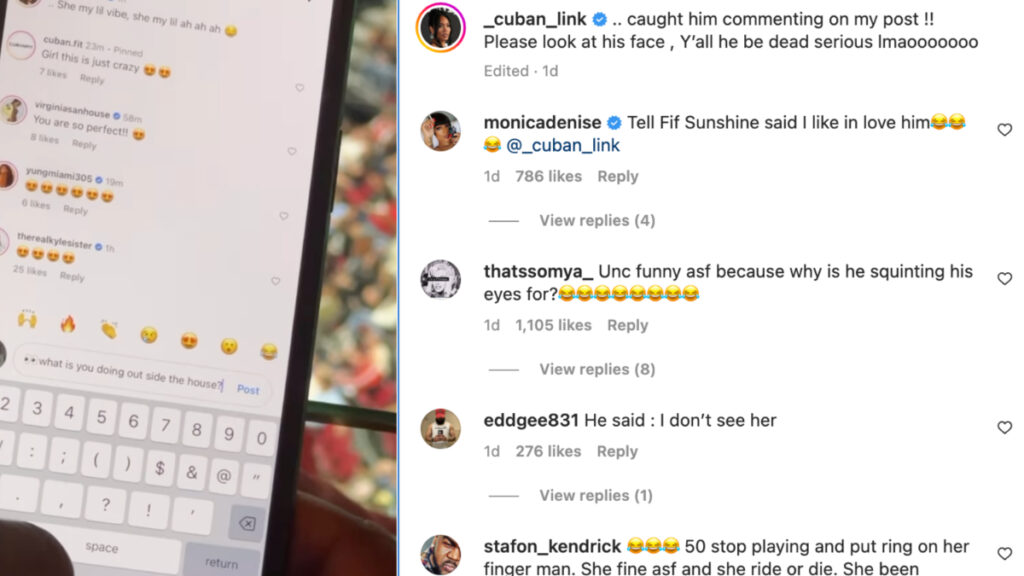 ".. caught him commenting on my post !! Please look at his face," she wrote. "Y'all he be dead serious lmaooooooo."
Fans enjoyed the comical video and shared their hilarious remarks in the comment section before she deleted the post.
One fan wrote, "Lmaoo he tryna figure out where he was when this was taking place."
"Am I the only one who Screenshot his Phone to read the COMMENTS," added another fan.
"The squint takes me out every time," noted another.
Friends of the couple also commented under the post. "The Boy Is Mine" singer Monica replied, "Tell Fif Sunshine said I like in love him [crying laughing emojis] @_cuban_link."
Haines replied to Monica's comment with, "He said 'Sunshine get her way , I've seen it with my own eyes' [crying laughing emojis] @monicadenise."
50 and Haines have been a couple since 2019, and fans love seeing the two showcase their playful love.
Haines often shares the couple's banter on social media, and a video of her joking about how good Jackson looked was viewed more than 2 million times on TikTok.
The clip features Haines literally tripping over herself as she says how fine her beaux is. Jackson playfully ignores her until she falls, and he looks at the camera with a shocked expression.