A brawl has erupted between a teacher and his students sparking an investigation by police and the Department of Education.

Officers were called to Maitland Grossmann High School, north-west of Newcastle, about 2pm on Tuesday with the entire incident captured on video.
Footage of the disturbing fight was recorded by multiple students and shows tensions flare after scrunched-up balls of paper were hurled across the classroom.
The teacher can be seen throwing the paper balls back at a student from a close distance before saying 'come on mate' and grabbing his collar.

He then proceeds to pull the student over his desk garnering an immediate reaction from other students who stand up and try and intervene.
One boy pushes the teacher away from him, yelling 'you wanna f***ing touch him again?'.

The teacher can then be heard telling his students to put their phones away before they start to yell at him.

The situation gets even more heated when a desk is thrown at the teacher as the school bell rings and several frightened students rush for the door.


Students involved in the conflict continue to yell at the teacher as they leave.

'F*** off,' the teacher can be heard saying.

'You f*** off you're touching children,' one student replies.

The student who was grabbed earlier can then be seen slapping away the teachers hand which flares tensions further.

The teacher then shoves the teenage boy through an aisle of chairs and into a whiteboard at the front of the class.


Footage appears to show the teacher winding his arm back and striking the student while he's on the floor.

'Are you f***ing stupid?' one stupid yells.

Standing in the doorway, the teacher then claims 'who wants to have a go?'.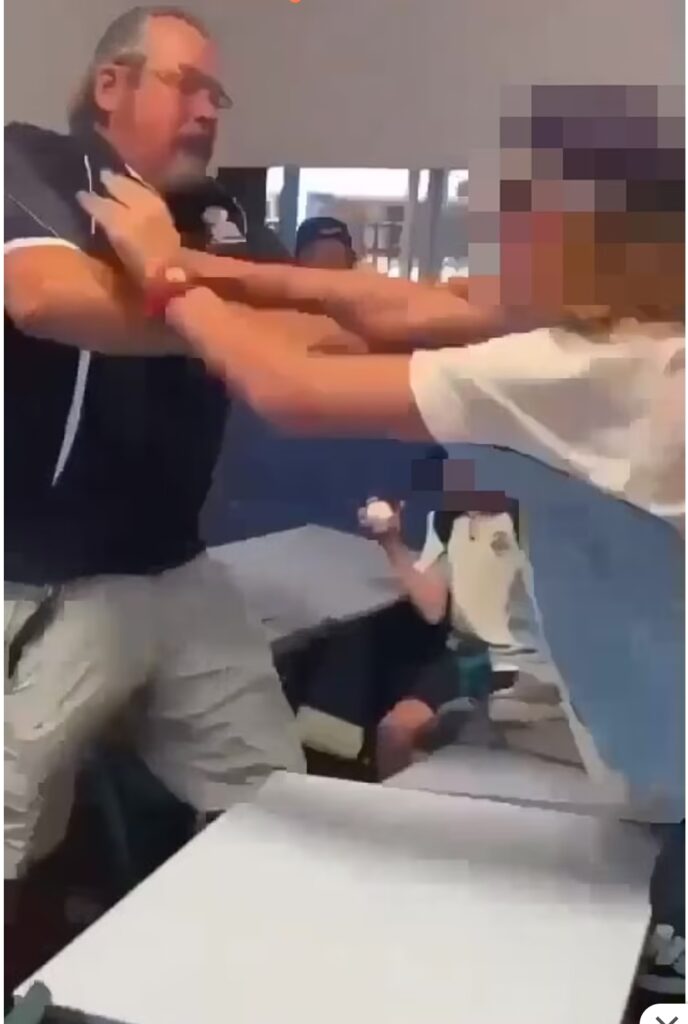 The Department of Education is investigating the incident while police have opened an investigation into allegations of assault.
The teenage boy was assessed at the scene by NSW Ambulance paramedics, however, was not physically injured,' NSW Police told Daily Mail Australia.

'Police are aware of the social media video, which will form part of the investigation.'

Daily Mail Australia has reached out to Maitland Grossmann High School for comment.


The schools website states that it's 'renowned for strong traditions in the creative and performing arts, academic, cultural and sporting pursuits'.

'The school seeks to provide a safe, challenging, caring and friendly environment in which each student is encouraged to achieve personal excellence and self-reliance,' the website continues.


'We support all students to achieve their personal best whilst consistently demonstrating concern for others, allowing each individual to emerge as a confident and responsible citizens.'