First Lady Jill Biden displayed a caring gesture as she directed President Joe Biden off the stage during the 2023 Human Rights Campaign National Dinner. The incident occurred on Saturday and was captured on video.

According to The Daily Caller on Sunday, October 15, in the video, President Joe Biden can be seen turning in the wrong direction after his remarks, prompting Jill Biden to step in.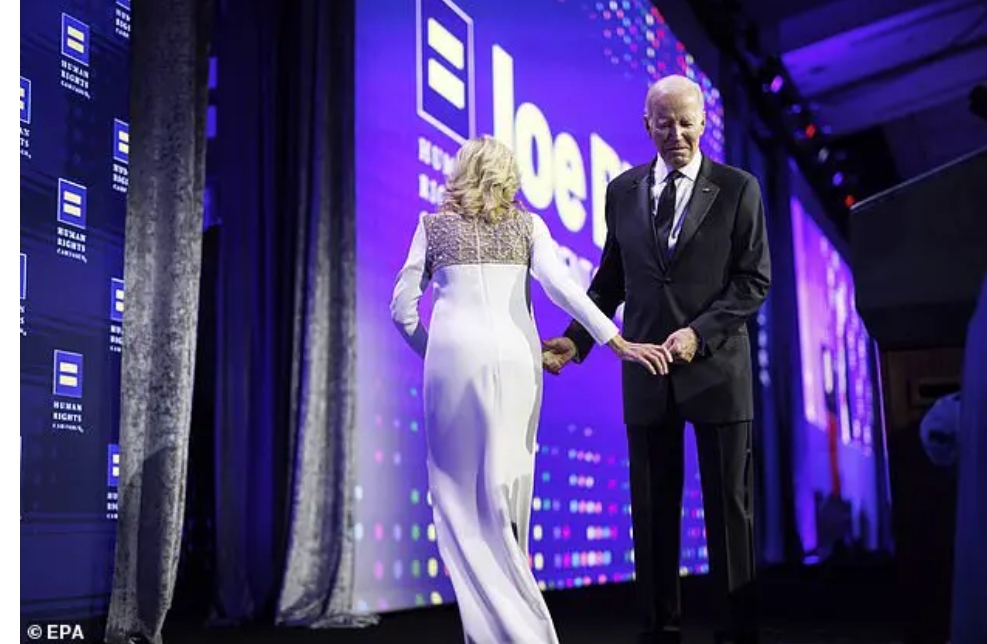 She placed her arm on her husband's back and gently guided him towards the correct exit. Her reassuring smile and wave conveyed her commitment to ensuring his well-being.

The incident took place against the backdrop of a disruptive protest during President Biden's speech. A pro-Palestine protester interrupted the event by shouting, "Let Gaza live!" and "Ceasefire now!"
First Lady Jill Biden helping her 80-year-old husband President Joe Biden walk off stage on Saturday, October 14, 2023 after giving keynote speeches at the Human Right's Campaign dinner.

The president momentarily paused his speech, apparently struggling to hear the protester's words. He responded by saying, "Thank you for whatever you're saying. I can't hear you."

This occurrence follows a recent incident in which President Biden nearly stumbled during an event in Philadelphia that promoted the creation of clean hydrogen hubs.
It also brings to mind his past incidents, including falls while walking up the stairs to board Air Force One in March 2021 and a tumble as he crossed the stage at the U.S. Air Force Academy graduation ceremony in June.

The repeated incidents have raised concerns about President Biden's age, with reports suggesting that his campaign is "terrified" of the potential implications of a serious fall.
Despite these concerns, First Lady Jill Biden has stated that it would be "ridiculous" to mandate mental acuity tests for presidential candidates over 75 years old.

The first lady's mixed messages about her husband's re-election bid were apparent before President Biden officially announced his candidacy.

She emphasized that the decision was entirely Joe Biden's, stating, "It's Joe's decision," and added, "if he wants to do something else, we're there too," during an interview with CNN.
The incident at the Human Rights Campaign National Dinner serves as a reminder of the close bond between First Lady Jill Biden and President Joe Biden.

Her attentive assistance on the stage exemplified her dedication to ensuring his well-being, which is particularly important in light of the ongoing concerns surrounding his health.