First Lady Jill Biden displayed her caring support for President Joe Biden as she gently guided him off the stage during the 2023 Human Rights Campaign National Dinner.

A video capturing the moment revealed a brief episode of apparent confusion on the president's part, which prompted his wife's intervention.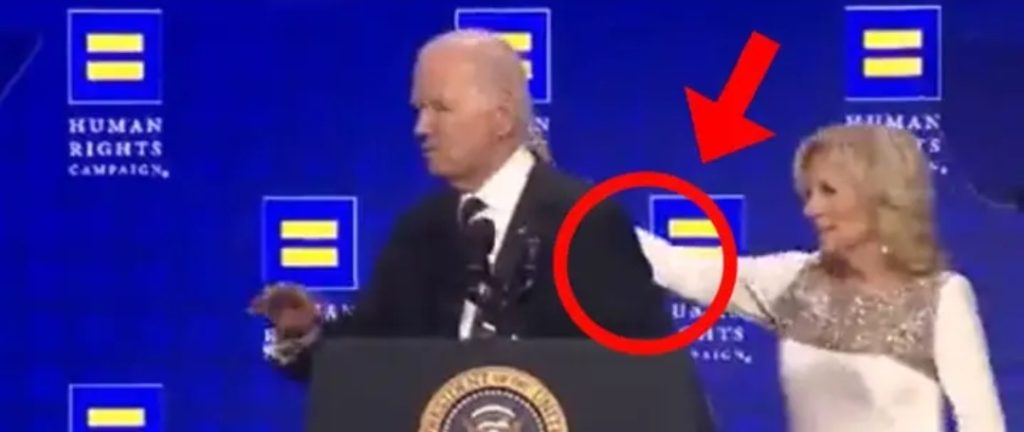 In the footage, President Biden appeared to veer in the wrong direction after delivering his speech, waving in a direction opposite to where he should have been heading.

As reported by The Daily Caller on Sunday, October 15, 2023, with grace and a reassuring smile, Jill Biden placed one arm on her husband's back and used her other arm to wave to the audience as she guided him off the stage.
This gesture highlighted not only her unwavering support but also her attentiveness to the president's needs during public events.

The evening was not without its challenges, as a pro-Palestine protester interrupted President Biden's speech, calling for the cessation of hostilities with slogans like "Let Gaza live!" and "Ceasefire now!" According to reports from The Guardian, the president momentarily paused, seemingly struggling to discern the words of the protester.
He then responded, "Thank you for whatever you're saying. I can't hear you." This incident illustrated the challenges that can arise when addressing a live audience in the midst of unexpected disruptions.

This occurrence came only a day after an incident in Philadelphia, where President Biden nearly stumbled at an event promoting the creation of clean hydrogen hubs. Such incidents have drawn attention to concerns regarding the president's age and his ability to navigate physical challenges.

Notably, President Biden had previously experienced slips and falls, notably while ascending the stairs to board Air Force One in March 2021 and during an event at the U.S. Air Force Academy graduation ceremony in June.
Amid these incidents, reports have emerged suggesting that the president's campaign team is apprehensive about potential falls and their implications for his political image. This concern is heightened by President Biden's age, as he is now 80 years old.

Despite these concerns, First Lady Jill Biden expressed her belief that mandating mental acuity tests for presidential candidates above the age of 75 would be "ridiculous." Her statements underline the importance of considering a candidate's qualifications and capabilities rather than imposing arbitrary age-related restrictions.
In the lead-up to President Biden's announcement of his re-election bid, First Lady Jill Biden gave mixed messages regarding whether her husband would run for a second term as an incumbent. On one hand, she affirmed that the decision was ultimately President Biden's to make, stating, "It's Joe's decision."

At the same time, she conveyed her and her family's willingness to support him in whatever path he chose, saying, "if he wants to do something else, we're there too." These comments reflect the complexity of the decision-making process within the Biden family as they navigate the challenges and responsibilities of the presidency.

The 2023 Human Rights Campaign National Dinner provided a glimpse into the dynamics of President Biden's public appearances and the vital role that First Lady Jill Biden plays in supporting and guiding him.

The incident with the protester highlighted the challenges of addressing a live audience, and concerns over the president's age and physical well-being continue to be topics of discussion within his campaign team and beyond