The U.S. Department of Justice (DOJ) is reportedly considering the possibility of filing criminal charges against prominent Democratic Senator Bob Menendez from New Jersey.

According to a report by The Conservative Brief News on Saturday, September 16, 2023, this revelation comes after an extensive investigation, and it has sparked significant interest and speculation within political circles and the media.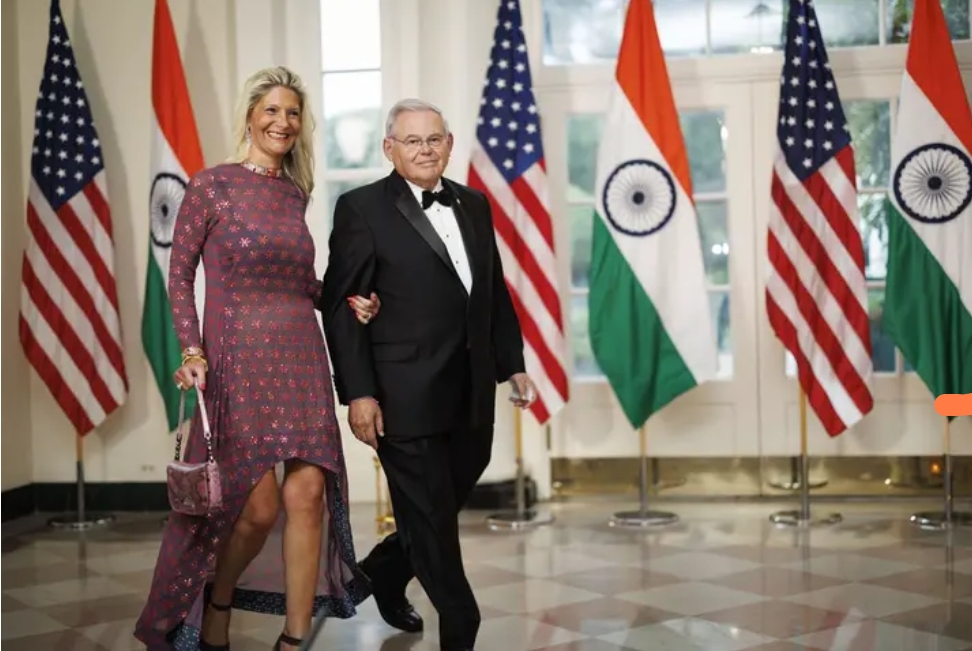 The DOJ's inquiry revolves around multiple aspects, including Senator Menendez and his wife, Nadine Arslanian, allegedly receiving gifts in exchange for political favors.

Furthermore, investigators have delved into the circumstances surrounding a lucrative contract secured by a New Jersey businessman with Egyptian officials for certifying halal meat exports.


Nadine Menendez and her husband, Senator Bob Menendez walk to an event. Credit.Pool photo by Ting Shen
This contract, which saw Menendez hosting the businessman and Egyptian officials in his office in 2018, resulted in the businessman becoming the sole certifier of halal meat exported from the U.S. to Egypt the following year.

The investigation has reached a point where prosecutors are expected to meet with Senator Menendez's legal team in the coming weeks, ultimately leading to a final decision on whether to press charges.



Menendez, who also serves as the chairman of the Senate Foreign Relations Committee, has been under scrutiny by the U.S. attorney's office for the Southern District of New York.

This development is not the first time Senator Menendez has faced legal challenges.


Senator Bob Menendez of New Jersey in a past event. Photograph: Aaron Bernstein/Reuters
In 2015, he and Florida eye doctor Salomon Melgen were indicted for their alleged involvement in an arrangement where Melgen provided private jet flights and lavish vacations in exchange for Menendez's assistance with government contracts and other public favors.


Menendez's defense claimed that their relationship was simply that of good friends, and the case resulted in a mistrial in 2017.

Notably, Melgen was later convicted of Medicare fraud in 2017 and received clemency from President Donald Trump in 2021.


One aspect that adds complexity to this situation is the striking similarity between the current investigation and the 2017 case.

While both investigations share broad outlines, they involve entirely different groups of people, according to sources familiar with the matter.


This intriguing development suggests that Menendez continues to face legal challenges even after his previous trial's outcome.

Commentators have observed that federal prosecutors rarely lose at trial, making this renewed scrutiny by the Department of Justice particularly noteworthy.

Public corruption cases, in particular, present unique challenges, as a 2016 Supreme Court decision set a high bar, requiring explicit evidence linking gifts or donations to official actions.


Moreover, the Department of Justice's return to the Menendez case raises questions about internal divisions within the agency.

In 2015, the charges against Menendez were initially brought by the Public Integrity Section in Washington after being handed off by a U.S. Attorney in New Jersey.

The Southern District of New York operates independently and did not bear responsibility for the failure to secure a conviction in 2018.

Senator Menendez's position as the Chairman of the Senate Foreign Relations Committee adds a layer of significance to this investigation.


His role in shaping foreign policy and international relations for the United States gives this legal scrutiny a broader context within the realm of national politics.