In an address to the International Association of Chiefs of Police conference in San Diego, California on Saturday, FBI Director Christopher Wray issued a dire warning about the rise of violent extremism, both domestic and international.

The warning comes amid ongoing conflict between Israel and the militant group Hamas, which has already claimed thousands of lives, including 29 Americans.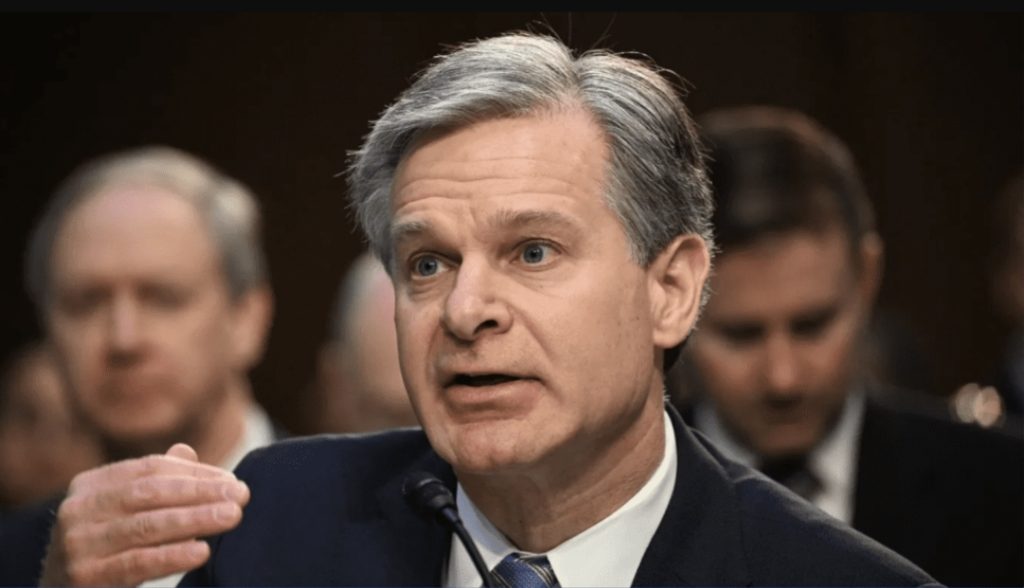 "Before I get into some of the specific ways we're doing that work together, I want to take a moment to offer my heartfelt condolences to the people of Israel, and share the outrage that I know we all feel at the sheer brutality and disregard for innocent lives there," said Wray.

"History has been witness to antisemitic and other forms of violent extremism for far too long. Whether that be from foreign terrorist organizations, or those inspired by them, or domestic violent extremists motivated by their own racial animus, the targeting of a community because of their faith is totally unacceptable," he added.
"We remain committed to continue confronting those threats—both here in the United States and overseas."
Wray indicated that there has been a significant uptick in reported threats following the attacks, cautioning the public to remain vigilant for "lone actors."

"In this heightened environment, there's no question we're seeing an increase in reported threats, and we've got to be on the lookout, especially for lone actors who may take inspiration from recent events to commit violence of their own.
"So I encourage you to stay vigilant, because as the first line of defense in protecting our communities, you're often the first to see the signs that someone may be mobilizing to violence. And I'd also ask you to continue sharing any intelligence or observations you may have. And on our end, we're committed to doing the same, so that together, we can safeguard our communities," he added.
It can be recalled that in its most recent communication released on October 9 concerning the attacks by Hamas in Israel, the FBI claimed that there is no "specific and credible intelligence" to suggest a direct threat to American soil.

"We are closely monitoring unfolding events and will share relevant information with our state, local, federal and international law enforcement, intelligence and homeland security partners to ensure they are prepared for any impacts to public safety. We will not hesitate to adjust our security posture, as appropriate, to protect the American people," the agency said.
While the FBI's warning is timely and necessary, it raises questions about the agency's recent focus. Most Americans argue that the FBI has been more concerned with tracking down supporters of former President Trump than with confronting actual terror threats.

As The tixaje previously reported, the federal government has discreetly established a new classification of extremists that it aims to monitor and counteract: the fervent followers of former President Donald Trump's Make America Great Again (MAGA) movement. This is taking place at the same time the Biden regime is targeting President Trump with over 91 indictments on bogus criminal acts in several states.

According to confidential data acquired by Newsweek, the overwhelming majority of the FBI's ongoing "anti-government" investigations involve supporters of Donald Trump.
An anonymous FBI official, speaking on the condition of anonymity due to the sensitive nature of the topic, described the agency's dilemma. "The FBI is in an almost impossible position," the official stated. "While we are committed to preventing any recurrence of the tragic events of January 6, 2021, we must also uphold the Constitutional rights of all Americans to engage in political campaigning, free speech, and peaceful protest."

Adding fuel to the fire is the ongoing crisis at the U.S.-Mexico border, which has been overrun with military-age males from various parts of the world. What could go wrong?