Democrat Rep. Alexandria Ocasio-Cortez was shouted down by angry New Yorkers over the migrant crisis.

More than 7 million illegal aliens have flooded over the US border since Joe Biden was installed in January 2021. Border towns in Arizona and Texas are being overwhelmed by illegal aliens.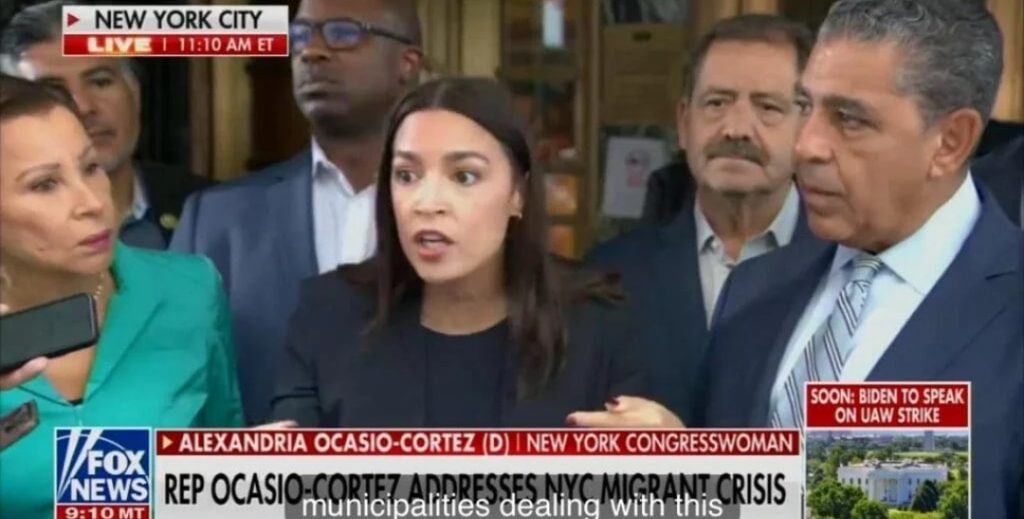 New York City erupted on Friday morning over the migrant crisis. Tens of thousands of illegal aliens have flooded New York City, a proud sanctuary city.
The illegals are taking over hotels, schools and homeless shelters.

New York City Mayor Eric Adams recently complained that 50% of the city's hotel rooms are now occupied by illegal migrants.

AOC and other Democrats held a press conference outside of the Roosevelt Hotel in Manhattan on Friday and they were met by an angry mob.
"My name is Alexandria Ocasio-Cortez. I'm here alongside Representative Adriano Espaillat, and we're incredibly thrilled and excited to be here!" AOC said as the angry mob shouted her down.

"Close the border! Close the border! Respect the constitution AOC! I am your constituent!" a man shouted.

"And what we seek to do is to make sure that all the resources are necessary and that we are joining with the city and state," AOC said before she was interrupted by an angry resident.

"Illegal immigration is not right! Respect the constitution, close the border!" the man shouted.

WATCH: